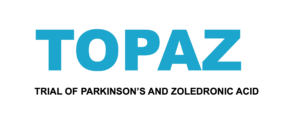 What is this study about?
People with neurodegenerative parkinsonism, including Lewy body dementia as well as Parkinson's disease, multiple system atrophy (MSA), progressive supranuclear palsy (PSP), and corticobasal syndrome (CBS), are at higher risk of falls and fracture. Zoledronate is an FDA approved medication that reduces hip fractures by 40% and may reduce the risk of dying.
The TOPAZ study will test if one dose of zoledronate can prevent fractures in people with LBD or other forms of parkinsonism.
What's involved?
The TOPAZ study is completed entirely from home.
Participants may have a video checkup (using a computer, tablet, or mobile phone) with a study doctor. If participants are eligible, a nurse will come to your home to give you a short exam and administer a one-time dose of the study treatment (either zoledronate or a placebo). Over the next few years, the study team will contact the participant by phone every 4 months to check if they have had any new fractures.
You can earn up to $250 for participating.
Participants earn $100 upon enrollment & $50 per year during the study.
Who can participate?
An individual may be able to take part in the study if he/she meets the following qualifications:
Men or women who are 60 years or older
People who:

Have LBD or another form of parkinsonism
Have not had a hip fracture
Have not used any bisphosphonate drug within the last 12 months

Have not used any of the following osteoporosis drugs within the last 6 months (parathyroid hormones or monoclonal antibodies used for the treatment of osteoporosis)
Study Sites:
All aspects of the study are completed virtually (online)
Study Sponsor:
NIH Funded
For more information
TOPAZstudy.org
800-4PD-INFO (800-473-4636)