Many of us have either read or heard of the book, Tuesdays with Morrie, by Mitch Albom. He wrote of his weekly visit with his college professor who was dying at home of a terminal illness.
As it has happened,about a year ago (December, 2012) I learned that my friend, John Fatula, was given a terminal diagnosis of "Lewy Body Dementia" which involves abnormal protein deposits in the brain with symptoms of both dementia (loss of cognitive functions such as memory and of Parkinson's Disease (loss of his use of legs and hands in a normal manner).
John and Audrey first suspected something was wrong as early as 2006. They made the decision to move back to Philadelphia from Maine when he could no longer mow the lawn.
John and I have been friends for over thirty years as members of Central Philadelphia Monthly Meeting. Upon learning of John's illness I suggested that we have lunch on a weekly basis. We started in January, 2013. I would arrive at Atria (senior living facility) and make my way to the activity room where John and other residents were listening to and commenting on news items in the daily paper. John alertly followed the reading. Early in the year John could walk with a cane. By November he required assistance transferring from a chair to walker. On bad days he needed the wheelchair.
We make our way to his and Audrey's apartment at Atria. We remark on the view across the Schuylkill River towards 30th Street Station and the Cira Center, a 28-story office tower with five glass sides that reflects the weather of the day. The living room is richly appointed with coffee table sized books on
art and history. I make a comment on one of the objects in the room. John responds with a story from his years as an architect in the city.
John and Audrey saw the Jackie Robinson film, "42" over the weekend (April,2013). He went on to tell of a game at Shibe Park in the summer of 1947 between the Brooklyn Dodgers and the Phillies. Not only the Phillies players but also the manager was disgraceful in their racist taunting of Jackie Robinson.
John said Robinson got two doubles in the game and drove the pitchers wild with his antics on the baseline. John was ten years old that summer. He and a friend were taken to the ball
game by his friend's mother. She and his mother would play Canasta at least once a week. I was about ten years old when my whole family played Canasta.After a pause, John said, "How come I can remember that ball game so well? It was so long ago." Two things came to mind as John remembered his trips to Shibe Park. He said he went out onto the playing field after one of the games and was amazed at how big the stadium appeared from home plate. The other amazing thing was the intense green quality of the grass.
On the first really nice and warm day of the spring season. I picked up my grandson, Jabril, from his first grade school. We biked down the two or three blocks to Logan Square. While I was sitting on a bench, taking in the warmth of the day Jabril was dashing around the fountain. Seeing a man in a motorized
chair passing in front of me, I recognized him as one of the residents at Atria,a block away. He made a short turn and rode over to where I was sitting. We greeted each other as Jabril came over.
"This is my grandson, Jabril"
"Hi Jabril, my name is Bob."
Jabril pointed to the chair, "Why are you in that?"
"I got hurt in a car accident. Always remember to wear your seat belt, Jabril".
Our routine during my visit is to sit and talk for a while before going down to the dining room for lunch. There are comfortable silences between the spaces of our story telling. I wait for him to put together the words of a story or a question. My presence seems to stimulate him to be more alert and focused. Sometimes he can't recall a word. He shakes his head. We are
silent. It's painful for both of us. I sit with him, a companion and fellow sufferer in this awkward but shared moment.
John opens a discussion by remarking that he has been wondering what happens when we die. I tell him I've been wondering if there might be some application of the mysterious way in which scientists have discovered that light can be a particle and a wave at the same time, depending on our point of view. Perhaps the soul can be thought of as a particle and a wave at the same time, depending on our point of view. If we imagine heaven, hell, and reincarnation,then the idea of the soul as a particle is useful. Or, if we think of the soul as becoming reabsorbed into God, then the idea of the soul as a wave that has substance for a moment and then is reabsorbed into the ocean is useful.
John chuckles and says, "Guess I'm going to find out."
We are the same age, born in 1937. John's parents managed a hotel in upstate New York. My parents had a farm in northern Minnesota. During the Second World War, John's dad was "4-F" with a medical diagnosis regarding his arthritis. My dad had a farmer's deferment. As five year olds, we both hammered tin cans for recycling. This was our contribution to the war effort. We both had early marriages that didn't workout. Our first children, sons, were born in 1961.
John looks up and points towards the open door to Audrey's office. "See that picture?" I go over to the door and see a framed picture of a model of the northern corner of the front of the Philadelphia Art Museum. "I made two of those models. They're about six by six inches.The Art Museum has one and I
have the other one packed away in a box somewhere."
John goes on to tell the story that when the Art Museum was built, they had money only to complete the sculpture under the roof arch on the northern side facing center city. Many years ago someone gave the Museum the money to do the sculpture under the center and southern sections, but they couldn't find an artist to do the work.
John says, "I'm missing one of the pictures of my Art Museum model. I lost it somehow in the move from our apartment on JFK. I wake up in the night and can't stop thinking about how that picture's gone missing."
We talk about losses.John tells me of one of his worst days. He was sitting at Logan Square and found that he could not draw a simple picture on the paper. This is from a man who was an accomplished calligrapher.We told stories of ourselves. When John was ten he stole a comic book from the local drug store. He said it has bothered him ever since. As a ten year old I went behind Lundeen's store and broke a gallon glass jug, cutting my hand. My parents made me pay for it out of my weekly nickel allowance.
We talk about arriving at a point when one says, "Enough!" When do you decide that the struggle to live is no longer worth it? John leans back in his chair, "I'm not there yet".
John has a BLT on toasted wheat and I have a chicken salad sandwich on toasted wheat. People assume we are brothers. That's our order. Every time. The BLT arrives. I hold the sandwich in place as he cuts a slice. I pick it up and place it in his hand so he can grasp it with thumb and index finger. He brings it to his mouth. Yes! He can feed himself. We look at each other, knowing the day will come. He tells me he frequently hallucinates.
December 12,2013.
When I arrive Audrey says he is having increased episodes of agitation and hallucination. John opens his eyes when I walk into the bed room and I take a chair. We exchange greetings and he seems to be alert. He begins to weep.
"I keep seeing weird things. This is madness. I've gone mad."
"John, can you see me and recognize my face?"
"Yes, I see you. You have marks all over your face."
He reaches out. I take his hand and rest it on his chest.
He asks, "Why is this happening?"
I answer, "Abnormal protein in your brain is causing all this."
Tears roll down his face as he continues weeping.
December 14.
John started hospice care today. Plans are made for the hospice aide to come in the morning and for the aide from Friends Life care to come in from 2:00 pm to 10;00 pm. Emily and David, his children, are there. I ask John if I still have marks on my face. He grins and nods his head.
Sunday, December 15
John had a vomiting episode. They tried a medication to relieve the vomiting.He had a seizure. Violent reactions to almost all medications are a symptom of Lewy body dementia.
John is speaking so softly I can't hear what he is saying. He reaches out to me. I hold his hand.
Wednesday, December 18
John's in bed. He looks at me with recognition. I take a book from the shelf. Sonnets from Later Life, by Kenneth Boulding. Inside the cover is a note. "Happy Birthday,John." It is signed, Lee and Tony Junker, 1995. I read a few sonnets. John is resting comfortably, eyes closed.
Thursday, December 19
Audrey tells me Emily visited yesterday and fed a few sips of Ensure to her father. I sit down beside his bed and speak to him, "John, its Brad." His eyes are open but they do not move in response to me. He looks straight ahead. I read a couple of sonnets. Hold his hand. We are quiet together. I rest my other
hand on his chest. Later Audrey and I sit for a while. We both know the end is near.
Saturday, December 21
John is sleeping. Does not respond when I speak to him and place my hand on his chest. I read three poems from Mary Oliver. Audrey comes out of her office. We hold each other.
I break up weeping and sobbing.
"It's so damn hard."
I collect myself and turn for the door.
She asks, "Anything I can do for you?"
I stop, "Just love each other."
She nods.
I leave.
Sunday, December 22
John is even less responsive today.
"Hi John. It's Brad."
I read some of Mary Oliver and Kenneth Boulding.
I rest my hand on his chest.
Kiss him on the forehead as I leave.
"I'll be back tomorrow.
Love you."
Have been coming in each day this week.
John continues to decline.
Some days I read to him.
Friday, December 27
Audrey and I sit at his side,
holding his hands.
One of my hands on his chest.
No more words.
Silence.
Sunday, December 29,2013
John had been restless last night. Audrey got in bed with him and held him. They both slept. She was awakened in the middle of the night by a change in his breathing. After a few breaths, he was gone.
"When death comes
like the hungry bear in autumn;
when death comes and takes all the bright coins from his purse
to buy me, and snaps the purse shut;
when death comes
like the measle-pox;
when death comes
like an iceberg between the shoulder blades,
I want to step through the door full of curiosity, wondering:
what is it going to be like, that cottage of darkness?
And therefore I look upon everything
as a brotherhood and a sisterhood,
and I look upon time as no more than an idea,
and I consider eternity as another possibility,
and I think of each life as a flower, as common
as a field daisy, and as singular,
and each name a comfortable music in the mouth,
tending, as all music does, toward silence,
and each body a lion of courage, and something
precious to the earth.
When it's over, I want to say: all my life
I was a bride married to amazement.
I was the bridegroom, taking the world into my arms.
When it's over, I don't want to wonder
if I have made of my life something particular, and real.
I don't want to find myself sighing and frightened,
or full of argument.
I don't want to end up simply having visited this world."
Mary Oliver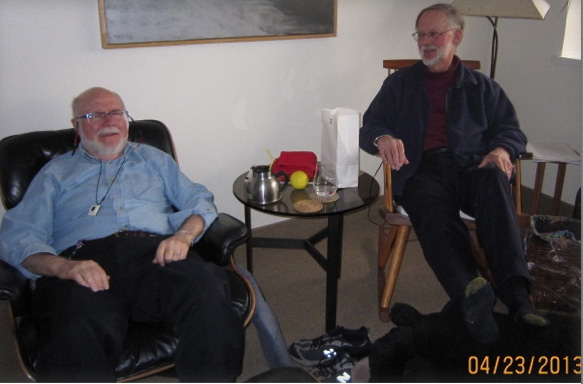 ---
Brad Sheeks, c/o Audrey Fatula