Dad, who celebrated his 90th birthday last April, was diagnosed with Lewy Body Disease in 2001. He was 76 years old. Although he became increasingly confused and frail, he was always the kind and soft-spoken gentle man we knew as dad.
Behavioral changes occurred gradually. Always outgoing and talkative, responses became single syllable words. Rarely did dad initiate conversation. He would sleep more and eat less. Having always taken pride in his personal appearance, dad was less inclined to shower, shave, brush his teeth or comb his hair.
There were times when dad wandered. We did not know about these occurrences until he was safely back home, but they were frightening experiences that our mother and brother dealt with for several years. We were fortunate in that dad always managed to run into helpful people…teenagers who sensed that something wasn't quite right, took him to McDonald's and called for help, policemen and EMTs who came to know him by name, neighbors who were aware of his challenges and even an alert bus driver who sensed there was a problem and provided assistance.
Mom served as his primary care-giver for 14 years. As she aged, it became increasingly clear that she needed some assistance taking care of dad and managing the house. There were increasing loads of laundry each morning, a bed that required frequent changing, a dishwasher to load and unload, garbage cans and recyclables to get to the curb, washing and ironing that required attention…plus routine tasks such as paying bills, correspondence, medical appointments, household maintenance, cooking, etc. She was doing the thinking for two and making all the decisions unilaterally…it was lonely, stressful and exhausting.
As time passed, dad needed help waking up in the morning, getting into and out of bed, eating, showering and walking. Some days he would sleep 20 hours or more. He was increasingly confused about where he was. Getting nourishment and medications in a timely manner became a very real challenge.
Under mom's care, dad seemed to find great comfort in viewing old family photos, reading old Christmas cards and listening to music of their generation. He enjoyed jigsaw puzzles, picture books and TV game shows. Mom developed the ability to enter his world because increasingly, he had difficulty being a part of ours.
Several years ago, in our search for an activity that would provide dad with pleasure and a sense of satisfaction, we discovered his love for puzzles. It is heart-warming to know that there is an activity that dad enjoys. Mom has also found them helpful. They could work on the puzzles together and they were useful tools when dad's attention needed to be redirected.
As of this writing, dad has twelve puzzles. In late January, he transitioned to an adult family home. It was a heart-wrenching decision that mom agonized over for many months. It was however, a decision we supported as we were growing increasingly concerned about her health. She was always on duty and constantly on guard. When she slept, she did so fitfully, with at least one eye and one ear always open. She no longer felt comfortable leaving home to meet friends or participate in water aerobics. Shopping, even grocery shopping, could be a challenge and eating out and even day trips were no longer possible.
Plans for the transition were made with great care. Decisions were made about the possessions dad would take and our brother had his new room set up before dad arrived. Included were family photos, a picture of the Model A dad had restored, his blanket and pillow, a chair from home, a pictorial chronology of his life that we'd presented to him one Christmas, a card table and of course, his puzzles.
The transition has been as good as it could have been. Dad's room is lovely, he's safe, the caregivers are kind, thoughtful and welcoming and a member of the family has visited or, in our case, talked with him, nearly every day. We'll continue to take things one step at a time…thankful for dad's good days and forever grateful for the many treasured memories we have of our much loved and admired mom and dad.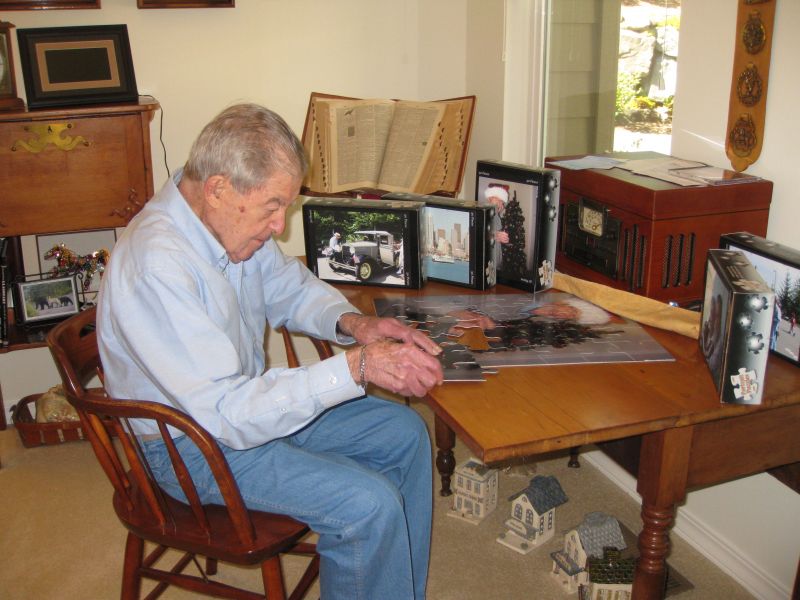 ---
Mindy Dalgarn