We moved in with my grandma two weeks before my seventeenth birthday. My mom was determined to take care of her and keep her out of a nursing home. At that time grandma was diagnosed with Parkinson's disease. I'd never heard of Lewy Body Dementia, but looking back I can see it so clearly.
Now, seventeen years later I felt an unexplained dejavu. After five years of being treated for Alzheimer's disease, my mom finally saw a neurologist that recognized the full spectrum of symptoms and introduced us to a new world. The world of Lewy Body Dementia was new, yet so familiar to me. I flashed back on the days of living with grandma and saw those same symptoms now mirrored in my mom's behavior. Well past the stage of memory problems and slight difficulty performing daily tasks, I became very well aware of where we were headed.
My dad did his best to help mom the majority of the day. We had an aid that came five days a week to help bathe her and get her changed. My husband and I only lived a few blocks away, so we went over in the evenings and weekends to help. It was hard for us because we have two little boys at home also.
As the disease began to progress, mom's emotional roller coasters and physical needs took a toll on all of us. I could see how much it wore on my dad whose health wasn't the best to begin with. She would wake him up in the middle of the night screaming about the people breaking into the house, or her lost dog, or the teenagers in the basement being too loud, or even just because she was confused about the time. She would fall in strange positions on the floor and he would have to call us to come over and get her back up. Most days she was unable to walk on her own, or at the very best would shuffle about stumbling on the carpet along the way. She began to toilet on herself and would need to be cleaned up over and over. Upon trying to help her, she would get angry at us and start swinging fists. Sometimes she would just start crying for no reason and it would go on like that for hours.
With every mixed emotion possible, I finally made the hardest decision of my life. We placed mom in a skilled nursing home three months ago. We are still very involved with her care there, but the assistance has taken a great weight off of us. I can't help but feel strong amounts of guilt that it isn't me taking care of her full time, but I know it's better for all of us this way.
I pray everyday caregivers of family members with Lewy Body with Dementia will have the strength to make it another day. I pray everyday that my boys will not have to decide how to care for me if Lewy strikes again. I pray everyday that a cure will be found and the world of Lewy Body with Dementia will be just a memory!
UPDATE: 01/08/2012
Mom is finally at peace. Lewy Body Dementia took her life. We were all by her side as she took her final breath and off she went in peace. The first peace she felt since she showed signs of the disease.
A huge Elvis Presley fan, she left us on his birthday…how appropriate.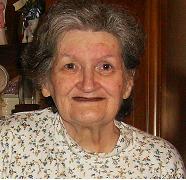 ---
Lynn Calvird