My Mom Gloria.
What a wonderful caring, soul she was. My mom was born in Vancouver, Canada January 11, 1932. Mother of four children. Marianna, Dan, Cathie and me Lisa. My mom a very healthy woman with work ethics, a height of 5"2 with eyes of blue and a heart of gold.
When my mom was about 58 years old, she started to see things hallucinated and had very high anxiety. She could not sleep, she began to walk with a gate, kind of on her toes.
Back in 1994 no one really knew what Lewy body was and as a family, we did not know what to do. We placed her in the hospital thinking she was mentally ill. Doctors then placed her on psychotic medication which made everything worse!
Our poor mom was dazed and confused. It was horrible to see her going through such a horrific mental state, and we felt so helpless.
As time went on, we had her see a Neurosurgeon. They did a CT scan and found cloudy areas in her brain. In which they said she has Dementia. As time went on as she was able to take the "correct medications."
My mom went to massage therapy school when she was 68 years old and past the test with flying colors! She was able to sustain a somewhat normal life. She ironically would go to assisted living homes and massage the elders that had Dementia and Alzheimer's.
Towards the end of my moms 78 years of life, she smiled and carried herself with such a wonderful outlook. Never complained. Eventually, we placed her in an assisted living home, and the nurses loved her. So very hard to see our Mom go through such a horrible disease. She was such an angel. April of 2010 our mom went to our Lord. She is now an angel with wings guiding all of us. just like she did with all of us on Earth. We Love and miss you, mom.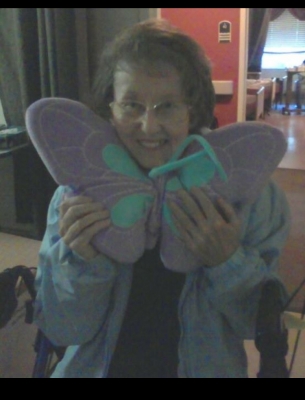 ---
Lisa