Never Give Up: My father's legacy
A little over a month ago, my parents picked up and moved down to Florida. It happened very fast and was decidedly the best decision for everyone. It has allowed my father to have access to 24 hour care and given my mother the opportunity to live her life, knowing he is in good hands at close reach.
During the move, we were forced to sell many things that were of sentimental value. Among those items was a huge collection of my father's paintings. My father spent most of his life painting and had intended to spend his retirement doing so. Unfortunately, Lewy Body Dementia robbed him of that opportunity (it's why my mother encourages me to never to save my dreams for later). In any case, after picking 10-20 of his paintings and giving many to other friends and family, my mom put together the rest of his hundreds of paintings for sale with the rest of the items from the house.
Just this week, my mother got a call from the woman that bought his ENTIRE remaining body of work. She was calling because she is interested in featuring my father's work in a gallery and selling his paintings. She could not believe her luck when she visited the estate sale and was able to purchase such incredible artwork. My mother said she felt a rush of emotions: she felt guilty for getting rid of his work, proud that someone had bought them all, and excited that someone had taken up the charge to do what she had neither the time nor expertise to do.
My father's work is now available for viewing on facebook. If he knew the world was finally able to enjoy his art, he'd be cool as a cucumber, chuckle to himself, shrug and say "you see? never give up."
Facebook page: https://www.facebook.com/wilfrid.desir.artist?hc_location=stream
Bio:
Wilfrid Désir was born on September 3, 1932, in Port-au-Prince, Haiti. Wilfrid attended the esteemed primary and secondary school, St. Louis de Gonzague, where he consistently excelled as one of the top students in his class. Entry into Haiti's medical school was very competitive but, having scored high on the entrance exam, Wilfrid was among the few to be accepted. Upon graduation, Wilfrid undertook the required rural residency in Dame Marie, Haiti. During this time, he faced some of his most difficult medical cases, as access to modern medical treatment was hard to come by. However, this time doing his rural residency brought him back to the reason he embarked on medicine initially: it was watching his grandmother combine various roots and herbs to treat family members that originally ignited his interest in caring for and treating others.
While in Dame Marie, Haiti, Wilfrid met and married his first wife, Olguita Joseph, with whom he fathered three girls: Dowoti Désir-Davis, Nadine and Marjorie Désir. In 1959, amidst political troubles in Haiti and with the promise of a better future for himself and his family, Dr. Désir immigrated to New York to begin training in Pulmonary Diseases and Nephrology at Bronx-Lebanon Hospital/Albert Einstein School of Medicine and Harlem Hospital/Columbia University Medical School respectively. Dr. Désir became a member of the Boards of Internal Medicine and Emergency Medicine and, throughout his career, practiced Emergency Medicine at Harlem Hospital, Metropolitan Hospital and finally New York University Downtown Hospital, from where he retired in 2004. Upon dissolution of his first marriage, Dr. Désir married Lucia Forbes-Désir, with whom he has two children: Christopher Henri and Alison Mariella Désir.
In addition to his passion for medicine, Dr. Désir cultivated a variety of other interests, which included music (he played the Bass while at school), art, literature and photography. Dr. Désir was interested in anthropology and agronomy and was an avid reader: he could hold his own in almost any subject, excluding finances (he worried about having enough money for his family, though being wealthy was never his preoccupation) and was well read in the classics of French literature.
In addition to English, Dr. Désir spoke his native Haitian Kreyòl and French, was fluent in Spanish, and was schooled in Latin. Perhaps most surprising to outsiders, but a treat to close friends and family, Dr. Désir loved to dance. Whether dancing the Waltz or Haitian and Dominican merengue, people would clear the hall to watch him glide across the floor.
Of all of his great passions, however, music, particularly classical music, and painting reigned supreme. In fact, he ensured that all of his children cultivated an interest and ability in both of the arts. Even after returning late from the Emergency Room in the evenings, Dr. Désir could be found many a morning in his make-shift studio in front of a canvas.
Dr. Désir had planned to devote his retirement to his art, to give himself the opportunity to develop and refine his own style. Unfortunately, Lewy Body Dementia robbed him of the opportunity to fulfill this dream. Dr. Désir was diagnosed with the disease in January 2006, just two years after retirement. At that point, he moved from Teaneck, NJ. to Dover, Delaware where his wife tried to complete his desire for a fully functional studio. Sadly, the studio was completed too late for it to ever be used by Dr. Désir in any real capacity, as by then Lewy Body Dementia had ravaged his talents and his mind.
His love and connection to the arts lives on through his work and his wife ,children, and grandson Martial Davis, who honor his unique and unmatched gifts in so many ways.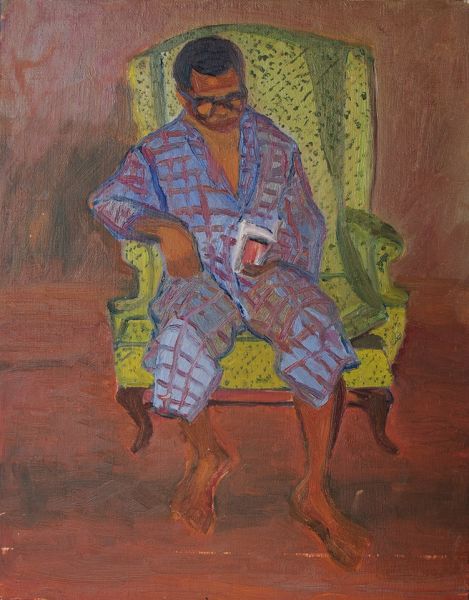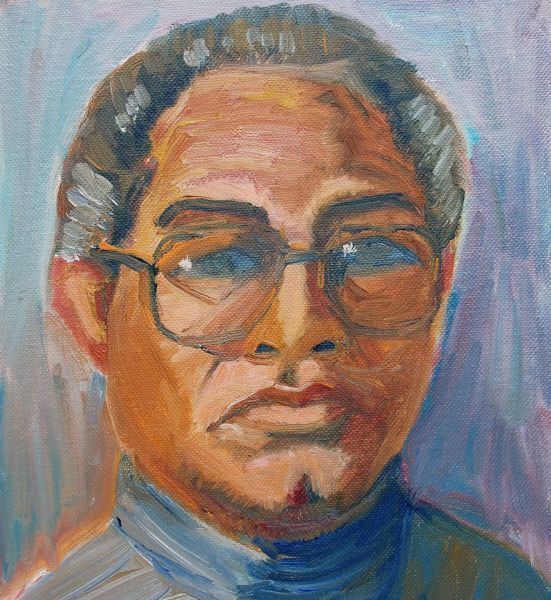 ---
Alison Desir