In the beginning…before LBDA
THE UNKNOWN –
In 2002 my father was diagnosed with Lewy body disease (LBD) at the UC Davis Alzheimer's Disease Center in Sacramento CA. We had no idea what LBD was at that time and there was little information available in those days to help us understand what was happening to my dad and how it differed from Alzheimer's and other brain disorders. Most doctors, even his own well-known internist, had never heard of LBD, so for help I found an online Yahoo LBD caregiver support group with 200 members worldwide. This group, started in August 2000 by Anne Hilgeman, was where caregivers could find support and share their stories of incorrect diagnosis and medications often causing irreversible problems and even death among LBD patients. Families and caregivers typically felt helpless with no place to turn but to each other but they knew something had to be done.
THEN CAME LBDA –
With a feeling of urgency, and encouragement from the online support group, five of us joined together to work on forming an organization dedicated to LBD. With Peggy Smith (SC), Jim Whitworth (CA), Imelda Fagin (NY), and Betty Wittenberg (WA), we worked online and by phone finally incorporating the Lewy Body Dementia Association (LBDA) in July 2003. At our first meeting two other caregivers, Donna Rae (MI) and John Young (TX), joined the Board and by year end the LBDA was approved by the IRS and registered in all 50 states as a charitable organization. In 2004 Lynn Whitman (AZ) and Sandy Shelton (OH) joined the Board. We published the first LBD information pamphlet, a toll-free hotline was initiated, and five world renowned LBD research scientists agreed to form the Association's LBD Scientific Advisory Council. In 2005 Micki Horst (MI) and Angela Taylor (PA) joined the Board and then LBDA received a generous unexpected grant from the Harry Mangurian Foundation. By the end of 2005 Carol Caughran (FL) had started the first local LBDA caregivers support group and the organization had chosen Atlanta GA as the national headquarters.
MY DAD –
My father, Herb Whitehead (2002-2005), watched the organization grow and was proud of the caregivers and what was accomplished. He always told me to tell other people with LBD and their caregivers that they should, "…expect the unexpected when dealing with LBD." We had all learned that because of the many varied potential symptoms and syndromes possible with LBD there was no way to predict the future. He was also fond of saying, "You find out what's wrong, then you do the best you can with what you've got left." And he did.
It's been over five years since Daddy passed and looking back I think the most important thing I learned about him during his struggle with LBD was his strength and bravery. It is a lesson I will take with me when it's my turn.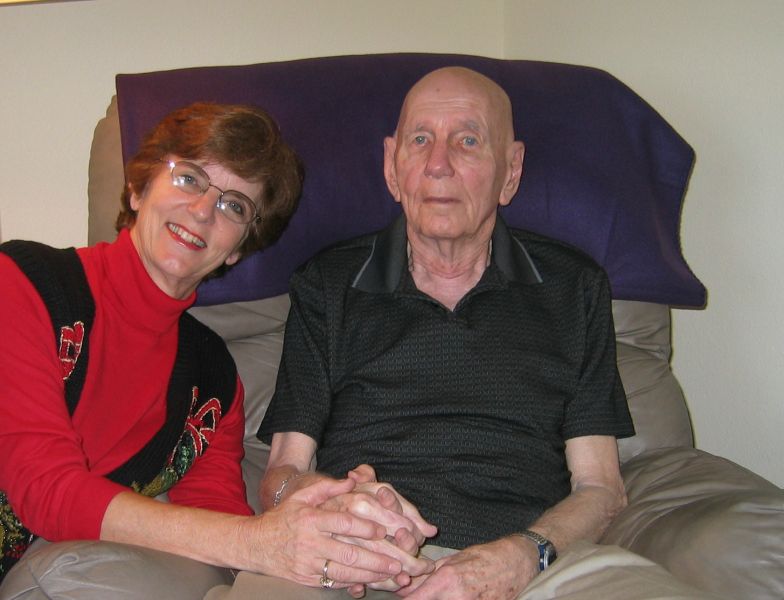 ---
Jan Childress