3 things I learned about me and my Lewy body dementia on my European vacation
My recent 'bucket list' trip to Europe, a quest planned by my three daughters after my diagnosis late last year of Lewy body dementia, brought with it three revelations about me and my disease:
Human relationships, especially with family, are the most precious thing in this world.
Getting away to unfamiliar and stunning locations, whether it's a nearby park or a European vacation, is a surefire way to let go of personal worries, at least for a while.
I feel in awe and somewhat guilty.
I've come to better understand a sense of awe I'm feeling, but also a feeling of guilt. But I'll get to that later. First I want to tell you a little about myself and then give you a short briefing on the trip. I am 57 and have been a journalist for more than 30 years, working in Florida, California and now in Alabama at AL.com. I was diagnosed with Parkinson's last August. But other symptoms, including REM behavior sleep disorder, hallucinations (though mild) and noticeable forgetfulness started pointing toward LBD. A battery of memory/psych tests persuaded my doctors – a neurologist and a neuropsychologist — to believe it is LBD. I'm still working, playing pick-up basketball and am relatively high functioning. However, I crashed my car a month or so ago and have elected to stop driving. Now I hold out hope my diagnosis is wrong, or I will somehow beat this. But, as a lifelong journalist, I am also realistic and know in my heart that that is unlikely.
Upon hearing of this diagnosis, my daughters Hannah, 30, Emily, 27, and Claire, 24, planned a 'bucket list' European trip for my wife, Catherine, and me. We started in Malaga, on the southern coast of Spain, where my daughter, Claire, is currently living and teaching English to schoolchildren. My memories of Malaga were this: Beautiful weather, beautiful city. I did hambone, my rhythmic, hand-slapping dance which attracted some attention on the streets where everybody was dancing. Catherine said they were welcoming me to Malaga but It was actually the festival of Carnival, I was later told. After a couple of days in Malaga, we flew with Claire to Glasgow, Scotland. We walked from our airbnb about three miles to Kelvingrove Art Gallery and Museum. This was truly one of the best museums I've been to. (And it was free!)
From Glasgow, we took a train to Edinburgh where we stayed for five days in Grassmarket, a place known for its old pubs and restaurants and its presence under the iconic Edinburgh Castle. It is also known as a spot for executions several hundred years ago and my daughter, Claire, and her friend Natalie, who had now joined us, went on a late night "Ghost Tour." No thanks, my wife Catherine and I said.
From Scotland we flew to Dublin, Ireland, meeting our other daughter, Hannah. Among other things we went to Malahide Castle, and took a bus ride to see Glendalough, a valley with two beautiful lakes out in the country. We also went to the Irish Rock 'N' Roll Museum featuring exhibits (signed guitars, etc.) of artists such as U2, Thin Lizzy, Van Morrison and the Pogues.
We did a short stint in London before heading back to Spain, where we capped it off with a trip to Ronda in Spain, northwest of Malaga. Now if Edinburgh looked like the set of a Harry Potter movie with its otherworldly dark stone buildings and castles, Rondo was a whimsical ancient mountain-top town, with stunning views from nearly every vantage point. The town was a favorite of Ernest Hemingway and Orson Wells.
Now for my three takeaways.
Relationships:
Being on vacation with two of my three daughters, Hannah and Claire, and my wife, Catherine, was wonderful. (We are also planning a trip with Emily who because of work did not get to come.) The daughters live far away from my Alabama home: Hannah in South Korea, Emily in Boulder, Colo and Claire in Malaga. Just hearing their laughter was at the same time joyous and sad. And sad is OK.
Sometimes, the tears are renewing.
Leaving it behind:
I lost my cellphone and didn't bring a laptop so was forced to live unplugged. As days went by I quit thinking about work and my disease. I found myself living in the moment. Yes, that involved doing hambone in Malaga during Carnival. But it also it meant being more present in my time and place, getting into the history of places I've never been. I could let it soak in without answering an email or shooting off a Tweet.
I feel awe but also a tinge of guilt:
This is perhaps the most difficult to explain sensibly. But on the trip I realized I feel guilty. I feel guilty and in awe. I have all these people, friends, colleagues past and present, total strangers offering me support, and kindness after learning of my disease. I feel guilty because most people have to wait until their demise before receiving such an outpouring of kindness. I'm truly blessed with great friends. But I feel like Tom Sawyer going to his own funeral.
Colleagues and friends at the Orlando Sentinel (where I worked from 1987 to 2000) started a Go-Fund-Me account to help pay for my European vacation. They raised more than double the $2,000 goal. My colleagues at AL.com are organizing a charity fund-raising basketball game to raise money for LBDA.
Survivor's guilt? Or is it the opposite? I don't know what to call it. But I'm in awe. And so grateful it hurts.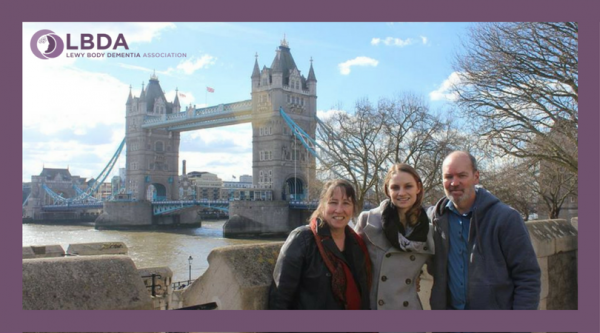 ---
Mike Oliver