When the Unthinkable Happens
This past spring  Art's CNA caregiver , our friend Doreen, took a two week trip to Jamaica. Doreen had gently and reassuringly gained Art's trust as  his caregiver during my absence on my work days. He does not easily trust others, especially someone coming into our home to help out (in his mind he does not need help), so for Doreen to earn his confidence was a real coup. Now that she was leaving on vacation caused much anxiety within my LBD suffering husband. Enter Maegan, Doreen's lovely and capable  20 year old daughter (also a CNA). Maegan met with an anxious Art a few weeks prior to Doreen's leaving on her Caribbean trip, as he was only used to Doreen, and unsure of anyone else coming in her  place. It was tough enough to get him to accept one caregiver coming into our home to watch over him, introducing a new person into this mix was a dicey situation. I had no idea how he was going to cope with this.
To say that Art was wary at the thought of this new young person  who was supposed to care for him was an understatement. He initially eyed her guardedly, doubting someone so "young and inexperienced" could possibly do anything to help him. And quite frankly, he viewed Doreen's absence as an opportunity to prove me wrong about needing a caregiver at all. He stubbornly rejected the notion of accepting another caregiver, as he believed he was actually still capable of caring for himself at all times (sadly, not the case). But he grudgingly agreed to  meet her at our family's insistence.  Maegan was about to melt his tough exterior and that distrustful mind of his, and endear herself into his heart.
From the very moment Art met Maegan he was struck by her mature sense of calm, her serenity, and her grace. Of course being outwardly beautiful as Maegan was with her big brown doe eyes and flowing long blonde hair, didn't hurt one bit either! But Maegan approached Art respectfully, and cautiously, gently breaking down the crusty walls of his sometimes gruff personality. They immediately discovered something they had in common-a love of horses and riding. Many do not know this about my husband, but for a few years his parents had a farm in Texas, and they not only owned a family horse, but stabled them for others as well. Each day when other kids would have to come home to do their homework first, Art and his brothers had to "exercise the horses", aka, ride them! Oh the stories they swapped around this very topic!! Maegan concurred, that she too had to ride her beloved horse daily after school. Art was sold, Maegan was in!!
To say Art enjoyed his time when Maegan would sub for her mom would be an understatement-he simply loved talking to this caring, compassionate, and capable young lady. She proved herself more than competent, caring for his needs, and  making him feel important and valued with each new tale he would share with her. She was always attentive and inquisitive, which made him simply adore her all the more! She worked out beautifully, and a wonderful relationship was born!
That was March. By the end of May, a once vibrant and healthy Maegan began to experience what appeared  to be severe flu-like symptoms. Maegan did not have the flu. I will not delve into the horrifying details of Maegan's sudden onset of the often mortal disease known as Hemophagocytic Lymphohistiocytosis, or HLH for short. Sadly, It is a desperately harrowing health battle often fought and lost. Maegan had many highs and lows with this shockingly fast-moving and debilitating illness that attacked her body with a vengeance, rarely letting up. Much of her hospitalizations were spent in ICU's in two of Boston's most prestigious hospitals.
In June, Maegan turned 21, but instead of a celebratory night out partying with friends at a club, Maegan was fervently entrenched in the battle for her life. Earlier in the day a devoted, blessed friend surprised Maegan at the hospital to wish her a happy 21st. At 4 p.m. that same day Maegan was released from the hospital, as she was allowed to return home for her big day. She quietly celebrated with a cupcake at home, surrounded by her loving family. In the end, after a valiant 88 day struggle with HLH, she succumbed to this horrible disease; passing away with her beloved cowgirl boots on. Yes Maegan was a bit of cowgirl. The boots on that fateful day was her idea. She wanted to die wearing her boots. A symbolic gesture that gets my Texan husband every time.
Art and I are heartbroken for Maegan's family. It is not easy to gain the trust of an individual with LBD, but that is just what Maegan accomplished. Life throws some pretty outrageous curveballs, and as I deal day-to-day with a husband and his LBD diagnosis, I am struck by the realization that we do not have a corner on the market for pain and suffering. People's hurt comes in all forms, heartbreak knows no age or limitations. I know this loss is already affecting my husband, as he cannot stop thinking about Maegan. He laid in bed most of  last night thinking of her. I am thankful we visited her in the hospital a few times, and offered what little help we could. In Maegan's casket at the wake was the painting Art had given to Maegan, resting in a place of honor just above her body. Art was touched beyond measure by this loving, final gesture of her family on Maegan's behalf. Art was told, "Maegan loved that painting." We never know how we touch the lives of others, and the impact we have on them, until sometimes that life is gone. Even if that life is a mere 21. With tears in  our eyes and  grief-stricken hearts, we are proud and to have been privileged to know Maegan and call her friend.
To those who deal with the multitude of wonderful, hard working  nurses, CNAs, hospitals workers… appreciate and thank your caregivers for the positives they bring to your LBD (or any illness they are facing) loved one, and the much needed relief they give to you. Tomorrow may be too late.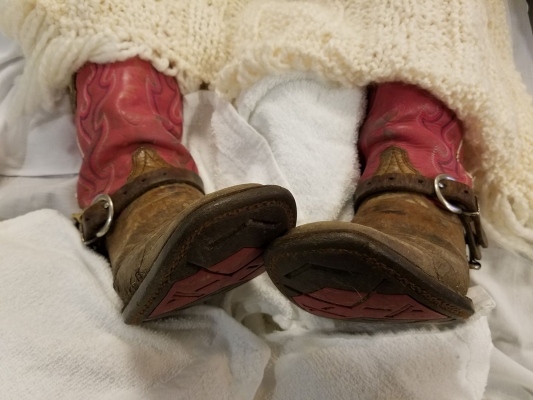 ---
Christine Lee