I see this submit a caregiver story and I look for a place to put my story. I am not a caregiver. I have Lewy, 68 years old, former big shot attorney, husband, father, grandfather, brother, and partner of an excellent service dog, Doc. I live in a CCRC in a one-bed apartment. My wife is here for a few days every week, but she maintains our home in the mountains. I now live in the dread flatland of heat and noise and confusion. I decided that living this way best for me and hopefully both of us.
Mr. Lewy has turned me inside out and I almost all the time need total peace, quiet, no chaos, no interaction to not go crazy angry confusion agitation and anything else bad you can think of. Living in very close to another person, any person just stirs things up real bad inside my head and body. The autonomic dysfunction stuff, I have all of it, but the low blood pressure drops are nasty for me. When I took my blood pressure night before bed, it was at 83/57. I have a pacemaker/ICD from past heart failure, so I used the internet to send a readout to my cardiologist and my wife, who will speak with him later today. He is cutting back on all my heart failure meds to help stop this blood pressure problem. I have to take Sinemet at a moderate some dose because without it I would be in pain all time. My walking struggles I get stiff, or I fall, so ultimately the Sinemet has to stay.
I am taking a mid dose of Exelon, I think I need it, so they say, so not stopping that, the drug for my blood pressure problem I can't take because it brings on heart failure. I fear that reducing that or eliminating my heart meds seem to be the only place to go now. Yet, with one problem brings up another and they don't seem to be working too well in general. I don't know how my life will be next week or even the week after. I always live day by day just coping with one problem over another. Who knows about next week? I can reason well, type of course and take general care of myself. As of now, I don't have any memory care.
I wish I could live all my time with my wife, but that isn't possible for me right now. If I do go into memory care, she will then have to move into my apartment to be here with me, over a two-hour drive down from the mountain.
Hallucinations aren't fun, but I can keep in place. Hear and see things and feel things not there. It's strange if you ask me. My service dog, Doc, takes care of me as best he can when my wife is not here. Doc does many things with me like walks me home if I get confused and finds me if I get lost. But only if I am have not gone too far away. Right now the most significant thing he is helping me with is letting me know if a person is real or not. If a person is real, he will take a few steps toward them. If not, Doc won't move or even look in the direction of the person I am seeing. I find it hard to decipher from what is real or fake more often than not and having Doc around really does help.
I just don't understand why there are not more stories out there for people like me. The person living with Lewy. Yes, there is a Facebook group, Living with Lewy, which is good. But there should be more stories, why aren't their stories from people like me?
Thank You.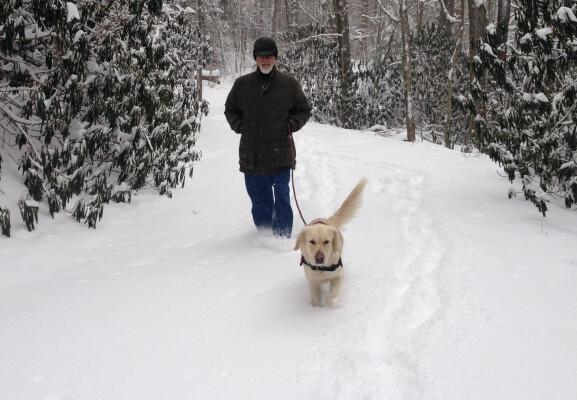 ---
Bill Young