This was not a disease that showed up overnight. Over the last 8 years the symptoms were there but there was no diagnosis. My husband Marvis first started having problems with his REM sleep. Night terrors, sleep walking, waking in the middle of the night to leave for work, carrying on conversations in his sleep all became the norm for us. Then fluctuations with his memory and his cognitive thinking became a huge problem.
We were sent to UT Southwest Medical Center in Dallas, Texas, where he was seen by experts in LBD and he was diagnosed was the disease in April 2016. Since that time, with medications to slow the disease, supplements for his erratic sleep, physical therapy for the Parkinsonism issues, he has continued to do the very best he can during his days.
He is declining a little each month. Some days he is like the man I married and other days he is unable to do anything for himself. His general memory is good but his cognitive thinking is very poor. He cannot make a decision and as hard as he tries, he has lost all interest in the things that use to bring him so much joy. In the last year he has developed the "lewy lean" where he sits and stands leaning always to the right. He has little attention span and does not understand what someone is saying to him unless you repeat yourself several times. He is also drooling and grew his beard out so no one would notice. (Haha!) He has lost weight but still has a pretty good appetite.
He loves a good chicken fried steak with cream gravy! As of today, he is still fairly independent on most days and when LBD raises it's ugly head, I do whatever I can to make his day the best it can possibly be. I am his only caretaker and when things get worse, we'll call in the troops for more help. I plan to keep him at home and even though I'm not sure I'll be able to do it, I will do everything in my power to keep that promise to him. We have great family, the best friends, a wonderful church and our unwavering faith and with all those precious things, we'll walk his journey with LBD together and see him through it all. I hope one day there will be a cure to this very cruel and debilitating disease. Until then, we'll do whatever we can to make his life happy.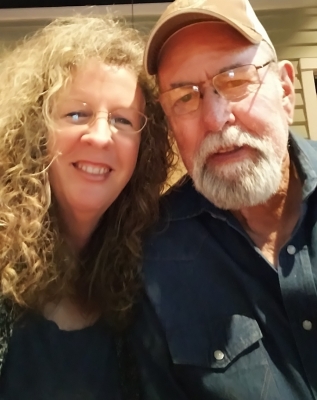 ---
Tammy Reynolds