My mother is the most amazing mother anyone could ask for. One characteristic that really stood out about my mom was her artistic side. She could draw anything that she saw, whether it was an idea in her mind, or a picture from a magazine. She loved to sketch animals as well. When I was packing her things to move her to her assisted living home, I came across all her sketches in her sketch pads. My favorite piece was the sketch she did of Simba and Nala from Disney's The Lion King. I remember when I was a kid, I wanted to have a playhouse in my backyard, so my dad built me one. My mom wanted to decorate it, so she took my looney tunes coloring book and sketched and painted pictures of Daffy Duck, Bugs Bunny, Sylvester the Cat, and Tweety Bird on the outside of my playhouse. I would definitely say that this was one of the greatest traits I have gained from my mother. Whenever I am stressed, or bored, I will take a blank sheet of paper and sketch whatever comes to my mind.
When I was in high school, everything started to change. I started to notice something was different about my mom. She started repeating herself a lot, and would become very forgetful. Her personality started to change as well. I could tell things started to get worse when she could not manage her finances, and her driving worsened as well. When I asked my mom if everything was alright, she would always respond yes, and say that there was nothing wrong with her. Things also started to change when I moved to Oakland University to begin the next chapter in my life.
My mom would call me at least three to four times a week just to check in and see how things were going, and then the calls suddenly stopped. My family started to worry about the changes they saw in my mom as well. As a family, we decided to express our observations and concerns to my grandpa. At first, my grandpa was in denial, and said my mom was fine and that there wasn't anything wrong with her. Then, my grandpa started to pick up on the same observations as well, and decided to schedule an appointment with the neurologist to see what could be wrong with my mother.
After lots of testing, the neurologist broke the news that my mother had been diagnosed with progressive Lewy dodies dementia. This really broke my heart when I heard the diagnosis because I instantly thought what does this mean for my mom's future? And could this mean that I am never going to have my "old" mother back? This was the hardest thing I have had to experience thus far, and with my mom's diagnosis, I had to put "my big girl panties on" and be there for my mom as much as she was there for me.
In recent months my mom's diagnosis has went from mild to moderate/severe Lewie Bodies Dementia. Unfortunately, she does not have full conversations with people anymore. On most days she constantly does laps around her floor, without stopping, and if you try to call her name, or say mom, she very rarely will respond to you. She can no longer take care of herself, and she has been living on the memory care floor at a senior living facility for just over a year. The staff makes sure that she is happy, and her needs are met daily.
Living with someone who has dementia feels like you are on a never-ending rollercoaster. You have your good days, where your loved one is in a great mood and shares cherished memories with you, and you have your bad moments as well. An example of a bad day would be asking the person to complete a certain task, and they get frustrated and yell at you because they cannot remember how to complete that particular task. This can lead to several shouting arguments, and shouting is the number one thing you want to avoid with a person who has this mental illness. There are days where I think about the good times my mom and I had before she was diagnosed with dementia, and how I would do anything to have my "old" mom back. I would also think about the possibility that my mom may not be mentally stable by my wedding day, which is why it is important I spend as much time as I can with her as possible.
Being a caregiver to someone with dementia can physically, financially, and psychologically impact your life. You always want to make sure that the person's needs are met, and show the person that you are there to help them whenever they need it. You want to be patient with the person, and be their greatest support system throughout their hardships. To this day, I could not have conquered this long, difficult journey alone without the amazing support system in my life: my friends, family, co-workers, fiancé, and my best friend Nikki.
If I had to pass along advice to someone who is in the same shoes as me, there are a couple of things I would tell that person. First, always keep your patience. Second, make sure you have a strong support system in your life. They will always be there for you whenever you need someone to talk to. Lastly, make sure to show the person with dementia that you care about them and will always be there for them, especially if this pertains to a family member.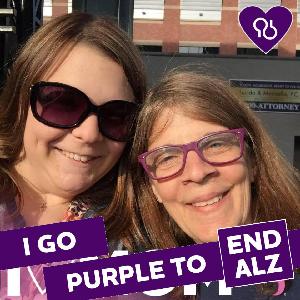 ---
Amber Arwine