Ohio State University's Center for Cognitive and Memory Disorders SPARK meeting
June 3, 2021 @ 11:00 am

-

1:00 pm

EDT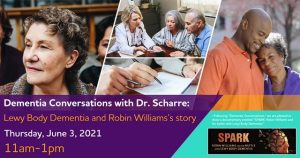 Ohio State University's Center for Cognitive and Memory Disorders – an LBDA Research Center of Excellence – is working with the Lewy Body Dementia Association and Alzheimer's Association to host a viewing of the film SPARK: Robin Williams and his Battle with Lewy Body Dementia.
The first 30 minutes of this event will be "Dementia Conversations"  and then the film will be presented. During this time, the film will highlight key messages that can enhance learning and understanding of LBD, improve diagnosis and detection, and offer LBD families a way to feel connected to resources and support. After the film is viewed a select group of speakers will present about the disease and then will facilitate a 10-15 minute Q and A session by Doug Scharre, MD and Ari Merola, MD from The Ohio State University Center for Cognitive and Memory Disorders.
Target Audience: Public/community/persons and caregivers with LBD.
Date: June 3, 2021
Time: 11:00 am – 1:00 pm ET